With spring hopefully just around the corner there's an opportunity to consider enjoying some down time outdoors and leaving the world of trucking behind for a little while with a long bike ride.
In my most recent blog post I talked about a very relaxed and enjoyable 55-mile round trip bike ride I did from Kingsland, GA to Fernandina Beach, FL and back while doing a 34-hour restart.
In this post I'll discuss different types of bikes we can easily carry with us on the road. Each has different capabilities, so we need to choose one that suits our preferred style of riding.
Folding Bike
These are great for those with limited room or with a need to carry two bikes—one for each occupant in a truck. While they don't take up much storage space, they usually have smaller wheels and don't have a selection of gears for varying conditions. They are better suited for short distance riding to run errands in town or explore the area nearby like Pro-Papers.
Mountain Bike
These types of bikes are basically like a Jeep that you can enjoy playing on trails. They are fun to have if you like to ride through forests, but being heavier, geared lower, and equipped with off road knobby tires it takes a lot more physical effort to ride them on the road for a long distance.
Road Bike
These are basically the fun sports car of bicycles. This is what I ride. I prefer having the capability to ride at a faster pace for longer distances with higher sets of gears.
The mountain bike and road bike take up more room. I remove the wheels and store them in a wheel bag while the frame goes into a bike frame bag. Then I place them on the upper bunk with the chain side of the bike frame facing upward to protect the gear train and derailleur mechanisms.
My road bike is stored on the upper bunk and secured with the net. This setup has worked well with Freightliner, International, and my current Kenworth trucks.
Equipment
Lights
NiteRider headlight (500 lumens with a frame mounted battery pack)
Garmin radar taillight paired with a Garmin Edge 1300 bike computer that alerts me of vehicles coming behind me long before I can even hear them.
Hydration
Two insulated water bottles in frame-mounted holders.
Clothing
Cycling shorts with an integrated seat pad for added comfort. Note: Loose fitting shorts on a bike are an invitation for a bee to go into a rider's private areas and create a living hell kind of painful situation.
Lycra jersey, because cotton is not good to wear when you are exerting yourself. Make sure you are highly visible to motorists when riding on the roads!
Last but not least—a good, well-fitting helmet!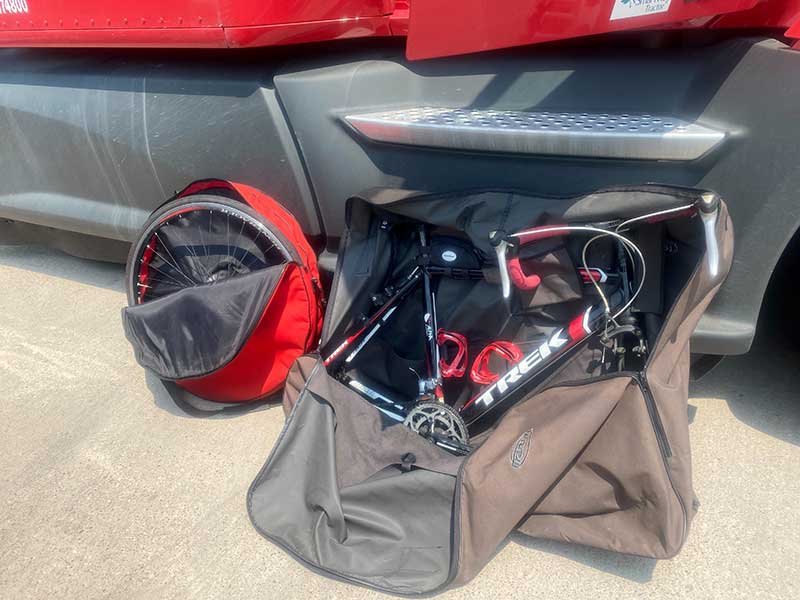 The frame in the frame bag and the wheel set in the wheel bag.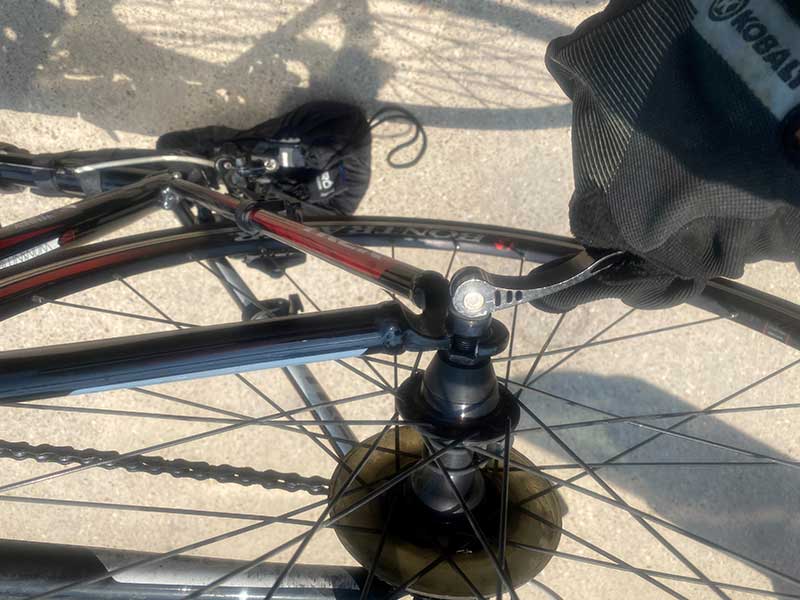 Quick-release hub levers on the front rear wheels.
Another photo of the quick-release hub on the front wheel.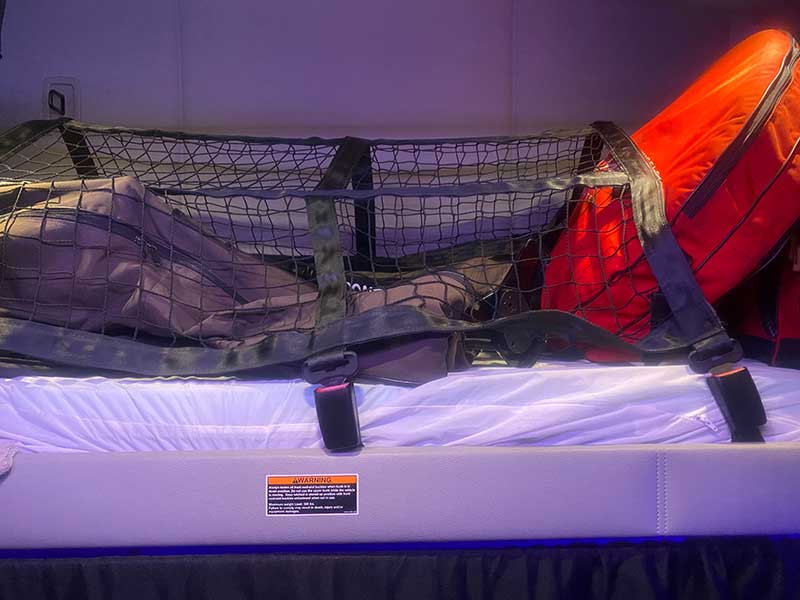 The red bag to the right (under the round wheel bag) is where I keep my helmet, shoes, shorts, jersey, lights, and other riding gear in.