FREEDOM. SECURITY. SUCCESS.
Join Crete Carrier's owner operator program and get the best of both worlds. The freedom to choose your loads, your destinations and your home time, AND the reliable freight, miles and pay that come with Crete's stable foundation of well-known customers. Plus, you'll have the support of Crete's nationwide network of terminals and shops and a fuel program that's second to none. Whether you already own your truck, or you're looking to make the move to owner operator, choose Crete Carrier, where we're here to help you succeed.
Qualifications and Onboarding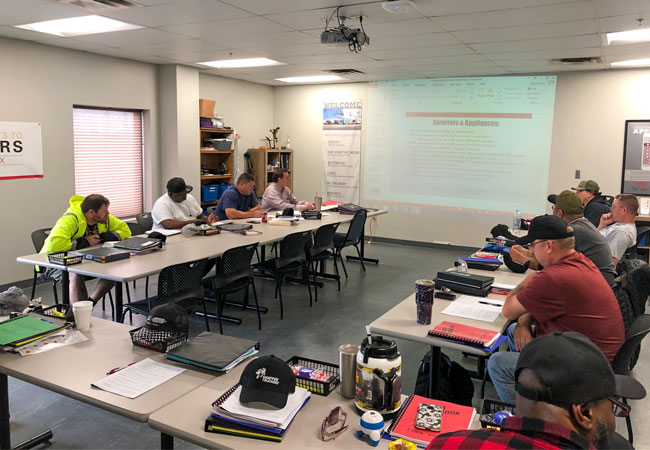 Crete Carrier Corporation strives to be the best trucking company in the nation. We strive to bring on experienced drivers with top safety records.
We require:
Valid Class A CDL
One year of tractor-trailer experience
DOT physical and drug test (urinalysis and follicle testing)
Company in-truck driving test
Acceptable safety record with no preventable accidents in past 5 years
No DUI or DWI convictions in past 5 years
No positive drug screens or events in past 5 years
TWIC card or eligible to obtain for Hunt Transportation
Minimum age of 22
Owner operator trucks must scale 44,500 pounds
Orientation
Locations: Lincoln, NE, Lenoir City, TN, Mechanicsburg, PA, and Wilmer, TX
Hunt Transportation orientation in Omaha, NE
Owner operators paid $.40 per mile to deadhead to orientation site
Lodging and meals paid
Classroom training and road test
Pay Packages
Sliding Scale Option – 21 Days Out OTR
All miles are practical route miles.
MILES*
CRETE
SHAFFER
SOLOTEAM
SOLOTEAM
1 – 150

$1.81

$1.81

$1.84

$1.84

151 – 250

$1.61

$1.61

$1.64

$1.64

251 – 700

$1.36

$1.39

$1.39

$1.42

701 – 1200

$1.30

$1.33

$1.33

$1.36

1201+

$1.22

$1.25

$1.25

$1.28

Deadhead

$0.90

$0.90

$0.90

$0.90
*Fuel surcharge is updated weekly based on the average dollar of over-the-road diesel. A fuel surcharge is paid on all loaded miles.
*Teams are required to operate 60,000 miles (Crete) or 55,000 miles (Shaffer) quarterly to maintain TEAM rates.
---
Flat Rate Option
All miles associated with this option are authorized loaded and empty practical route miles.
DRY VAN – CRETE CARRIER
WEEKLY HOME TIME
BI-WEEKLY HOME TIME
Trip Length (miles)*
Rate
Trip Length*
Rate
1 – 500
$1.23
1 – 500
$1.28
501 – 1200
$1.20
501 – 1200
$1.24
1201+
$1.18
1201+
$1.20
REFRIGERATED – SHAFFER TRUCKING
WEEKLY HOME TIME
BI-WEEKLY HOME TIME
Trip Length (miles)*
Rate
Trip Length*
Rate
1 – 500
$1.24
1 – 500
$1.31
501 – 1200
$1.21
501 – 1200
$1.27
1201+
$1.19
1201+
$1.21
*Fuel surcharge is updated weekly based on the average dollar of over-the-road diesel. A fuel surcharge is paid on all loaded miles.
---
Flatbed Pay Options
Option #1 – Mileage Rate
Mileage compensation is computed using practical route miles which more closely matches the actual miles you drive rather than short route miles which many other companies use in computing miles.
FLATBED – HUNT TRANSPORTATION
MILES*
HUNT
1 – 150
$1.64
151 – 300
$1.41
301 – 700
$1.21
701 – 1,200
$1.17
1201+
$1.06
Deadhead Miles
$0.86
Additional Information
1.5% productivity incentive payment each month the truck runs 10,000 miles or more with no reported service failures
Over-dimensional loads pay an additional $.10 to $.25/mile determined by the size of the load
$50.00 stop pay
100% of tarp pay
Quarterly Safety Performance Bonus, subject to terms within the contract
65% of any LTL "add-ons"
Peoplenet rental is $10 per week.
Option #2 – Percentage of Gross
The plan starts at 67% of the gross revenue of each load, increasing by 1% each of the first three (3) years, then 71% on the 10th year and 72% on the 15th year.
1.5% productivity incentive payment each month the truck runs 10,000 miles or more with no unreported service failures
100% of tarp pay
Quarterly Safety Performance Bonus, subject to terms within the contract
Percentage rate of any LTL "add-ons" equal to your percentage rate of pay
Peoplenet rental is $10 per week
---
Stop-Off Pay
If your load requires multiple stops, in addition to the original pick up and the final delivery, you will receive stop pay of $30 per stop.
Guaranteed Detention Pay
Owner operators will receive guaranteed detention pay after two hours of wait time.
Taking Advantage of Detention Pay
Benefits
IRA Contribution Plan provides annual incentive payment to driver
Discounts offers from retailers and service providers
Driver achievement recognition
Driver referral bonus of $500 for every hire upon completion of orientation
Policies and Programs
At Crete Carrier Corporation we're here to support you with a transparent approach to business expenses designed to help our owner operators succeed. Plus, you have access to our industry-leading benefits package and the fuel-surcharge program, which keeps your fuel cost at or below $.75 per gallon
Required Insurance
Blanket Physical Damage-Based on value of tractor
Bobtail Coverage- $30-$36/month
Cargo Coverage – $15/month
Worker's Compensation Coverage – $180/month
Plates and Permits
Crete Carrier Corporation pays initial costs
Weekly deduction to pay back costs
Annual relicensing credit based on performance
Performance Escrow
Escrow of $750 deducted at $50/week for 15 weeks
Monthly Fuel Tax
Crete handles fuel tax paperwork
Tax amount charged to settlement each month
Maintenance Discount
Owner operators receive a significant discount on parts and labor at company shops
Mobile Communication
Devices installed at no charge
Owner operators on a sliding scale pay $40/month
No monthly charge for owner operators on a flat rate pay system
Know Your Pay
Know Your Pay
How do you know if makes financial sense to take on the responsibility, and pursue the opportunity of being an owner operator with Crete Carrier or Shaffer Trucking? We've created a handy tool to help you calculate what you can expect for weekly take home pay.
Simply click the button below that corresponds with what you prefer to haul. Answer the questions in the Know Your Pay tool, and this will give you an idea of the income you could expect as an owner operator.
Truck Purchase
Making the decision to become an owner operator is difficult. One of the biggest hurdles is finding a reliable truck at an affordable price. At Crete Carrier Corporation, we help our company drivers who are interested in purchasing their own truck become successful small business owners. We make buying your own truck a seamless, worry-free process.
Wholesale Pricing
Affordability is always a top concern for drivers wanting to purchase, which is why we price our trucks at or near wholesale value. This price includes a two-year/250-thousand mile extended engine warranty, plus any remaining factory warranty.
Owner Operator Support
From purchasing your truck to running your business, we support you every step of the way. As an owner operator for Crete Carrier, Shaffer Trucking, or Hunt Transportation, you will be your own boss without the stress of finding the freight. You will have your own dedicated dispatch and fleet management team ensuring you get the miles you are looking for.
It's no wonder our owner operator turnover rate is less than 25%—one of the lowest in the industry. We make the responsibility and reward of running your own business easy.
Available Tractors
2019 Freightliner Cascadia Evolution P4 tractors
455 HP Multi-Torque Detroit DD15 diesel engine
DT12 Automated transmission
72″ raised roof sleeper
230″ wheelbase
Rear air ride suspension
Premium radio
Sky rise double bunk
1200 watt Purkey inverter
Dual fuel tanks – 90 & 80 gallon
New steer and new recap 22.5 Lo Pro drive tires
Idle reduction technology with sleeper APU (cooling & heating)
On-Guard Collision Avoidance technology
Communication with electronic logs
Approximately 400,000 miles
Color options – red or blue
Credit Application
If you are currently driving for Crete Carrier Corporation, Capitol Casualty will use the following criteria when evaluating your loan application:
Your average monthly miles
Number of safety points
Amount of debt
Length of time with Crete Carrier Corporation
Amount of down payment
Credit score
Capitol Casualty offers low-interest rates of 7% to 9%, and with qualifying credit, your down payment could be as low as $3,000.
Please contact a driver recruiter at 800-998-2221 to learn more about the owner-operator program. To start your credit application please click on the document below.