OUR CUSTOMERS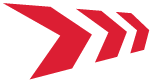 GREAT VISIBILITY FROM POINT A TO POINT B
From booking to delivery, Crete Carrier Corporation has the technology to help you keep an eye on your goods. Our load-tracking software gives you an up-to-date status of your shipment, so you can rest assured it's right on track. You can also use your personal login to access images of original, signed bills of lading.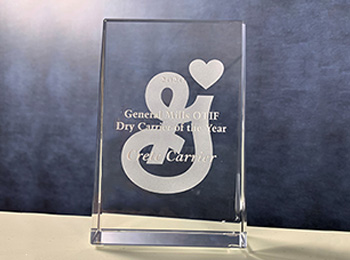 General Mills
2020 Carrier of the Year
Kimberly-Clark
2019 Carrier of the Year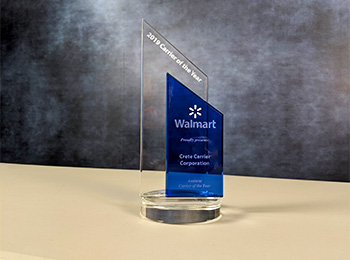 Walmart
2019 Carrier of the Year
Trust
In an era of uncertainty, our customers trust the stability of Crete Carrier, Shaffer Trucking, and Hunt Transportation. We're a family-owned company from the terminals to the trucks. And Crete Carrier Corporation is debt-free, one-hundred percent asset-based — and committed to staying that way.
Safety
Safety is our top priority. We keep cargo safe — and operate safely to provide better on-time service.
Industry-leading safety scores
Newer equipment – most trucks are 2 years old or less
Terminal shops provide frequent maintenance and timely repairs to reduce downtime
---
Crete Carrier Corporation Rules Tariff – Current Rules (effective 5-1-21)
Technology
With Crete Carrier, you'll have a shipping partner that is nimble, flexible and properly equipped with cutting-edge technology to adapt to any situation the road throws at us.
Load and network optimization
Track, trace and visibility systems
Focused on automation
Services tailored to customer needs
FourKites Premiere Carrier
Customer Service

With our company roots in rural Nebraska we tend not to toot our own horn. Humility is in our DNA. But we believe in setting the bar high and are proud of our Crete family when customers recognize their performance. Our list of recent Carrier of the Year Awards reads like a Who's Who of American business: Walmart, Kellogg's, General Mills, Kimberly Clark, Home Depot and Transplace.
We strive to be a valued partner with our customers, listening to their needs and responding to their challenges. We've built decades-long relationships based on trust and commitment. Our priority is serving OUR customers; we don't broker freight and we don't haul brokered freight.
Specialized Services
At Crete Carrier Corporation, we believe in providing business solutions that are customized to meet your unique needs and nimble enough to adapt to any situation.
Dedicated fleets work full-time for you, custom-designed to meet your needs. And Crete Carrier/Shaffer Trucking is one of the largest providers of dedicated services in the country. Our sales and operations teams work directly with you to ensure the experienced drivers on your fleet deliver safely and on-time every day.
Regional fleets cover most areas of the nation, strategically developed around key transportation corridors and our extensive terminal network. Our regional drivers know the routes well and develop connections with frequent customers.
Local services include spotting and shuttling services operating in various locations throughout the country.
Custom solutions are always an option when a customer has a special request.
OUR TERRITORY EXTENDS FROM COAST TO COAST
Regional fleets offer a variety of options with dedicated and regional characteristics. Experienced drivers get to know their customers and the diverse mix of freight within each region, elevating the level of service they provide.
Click or hover a region text block to view each region's coverage.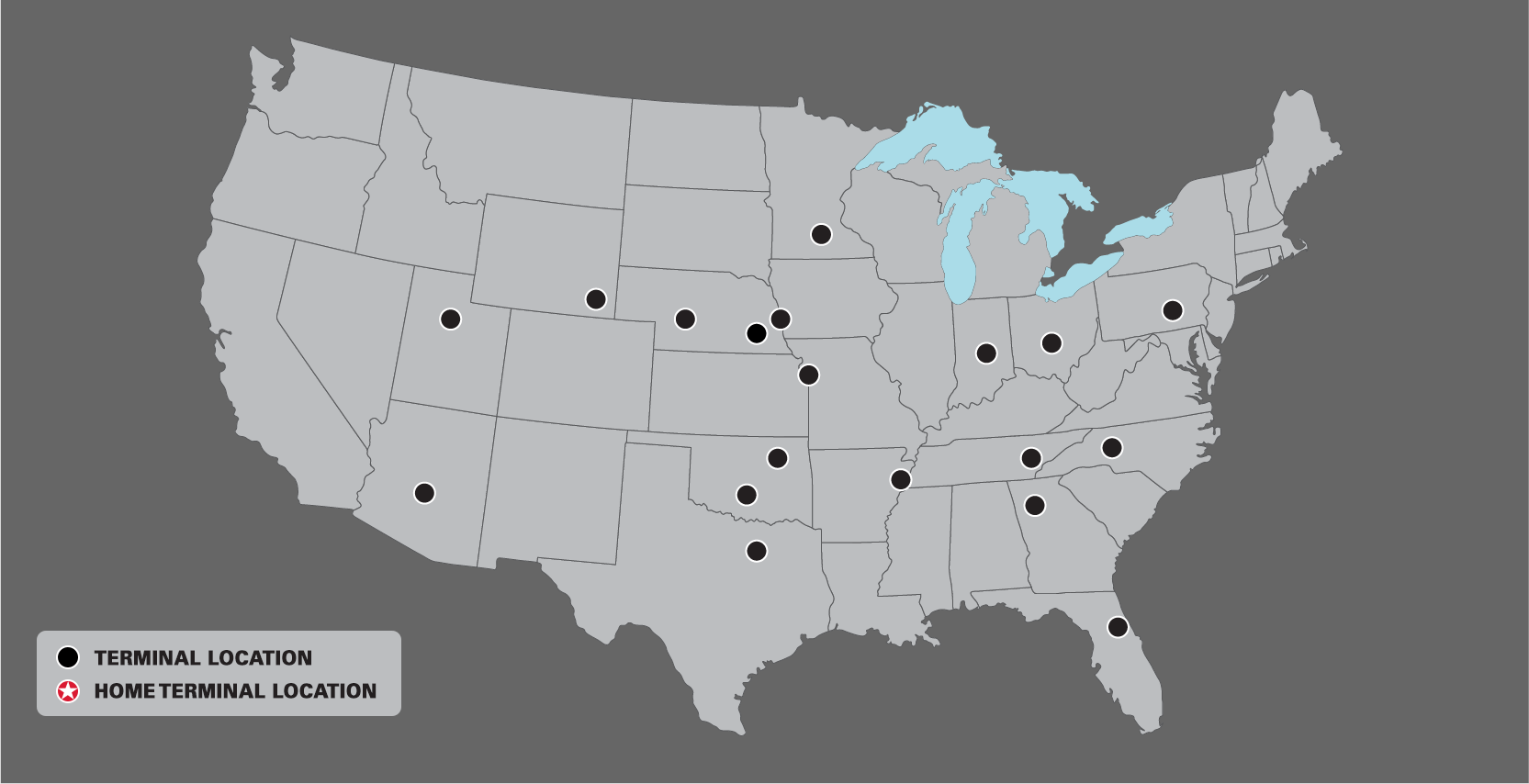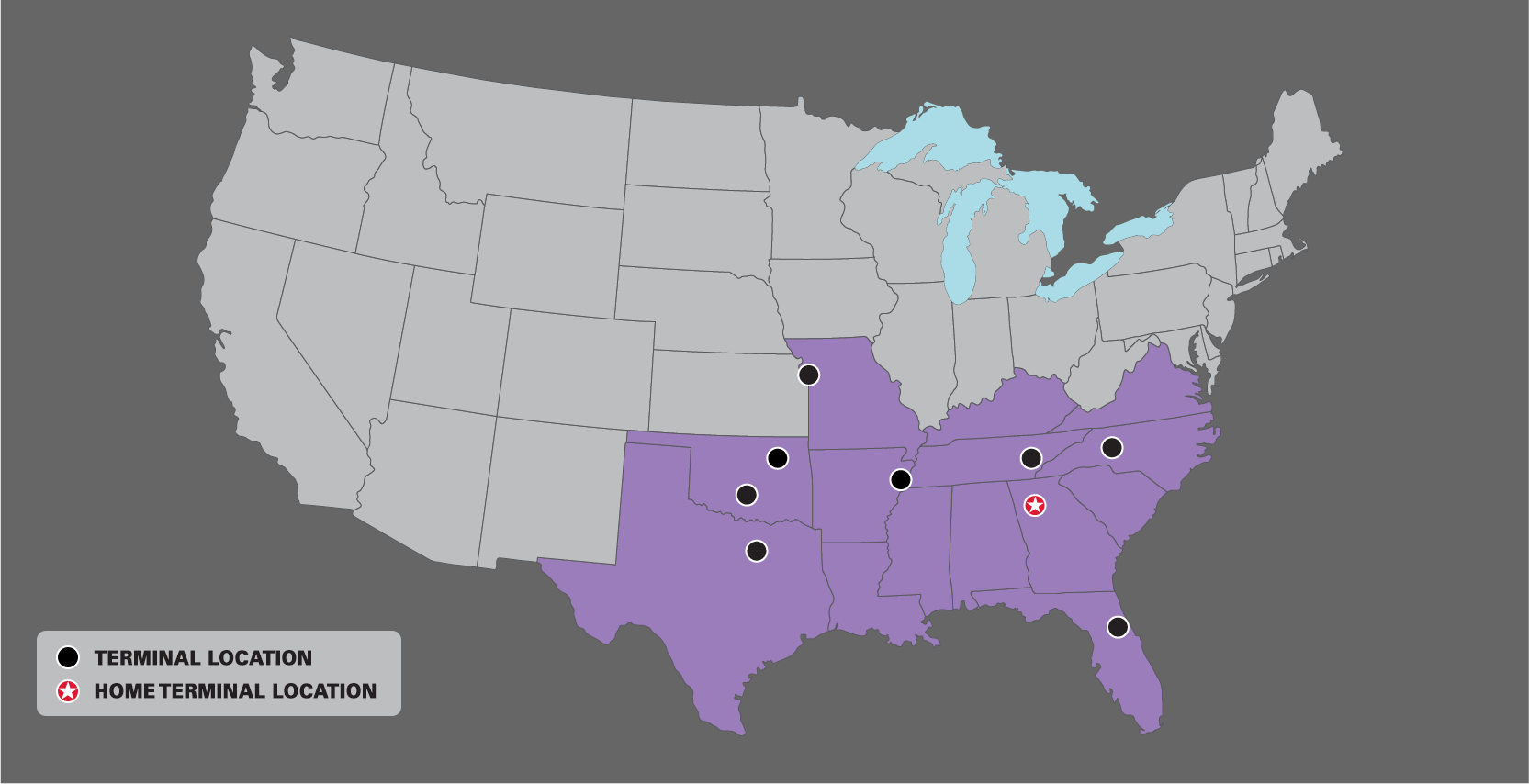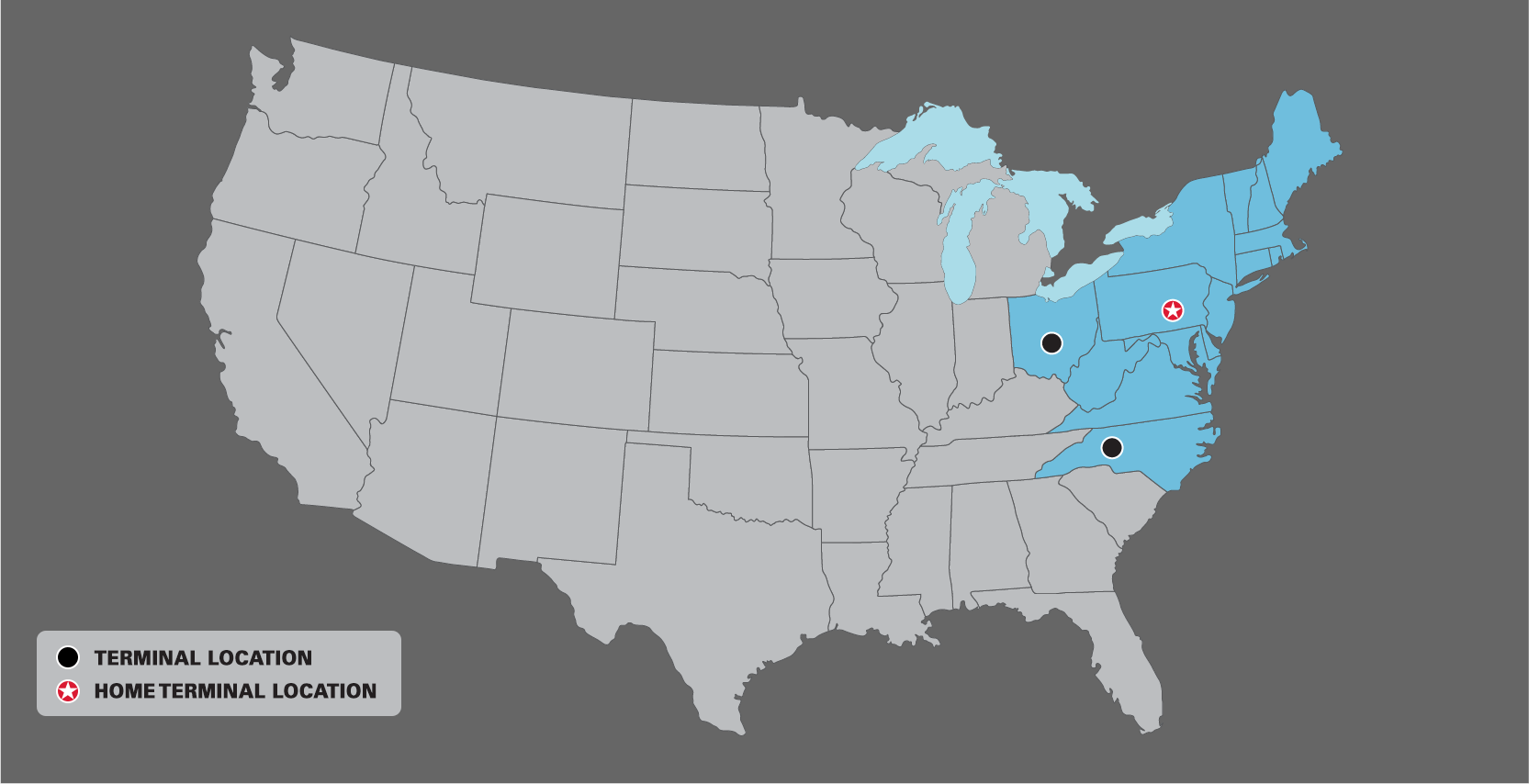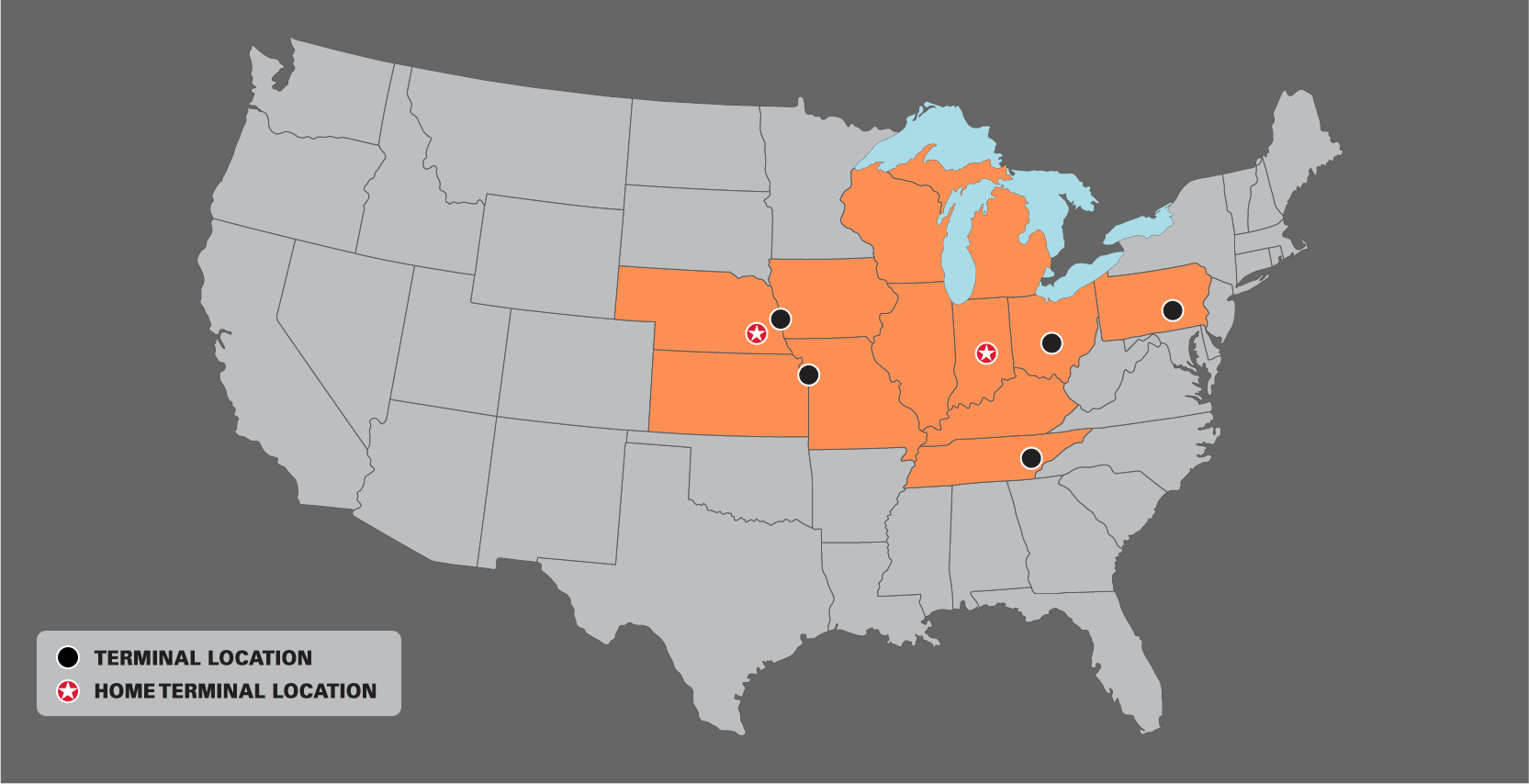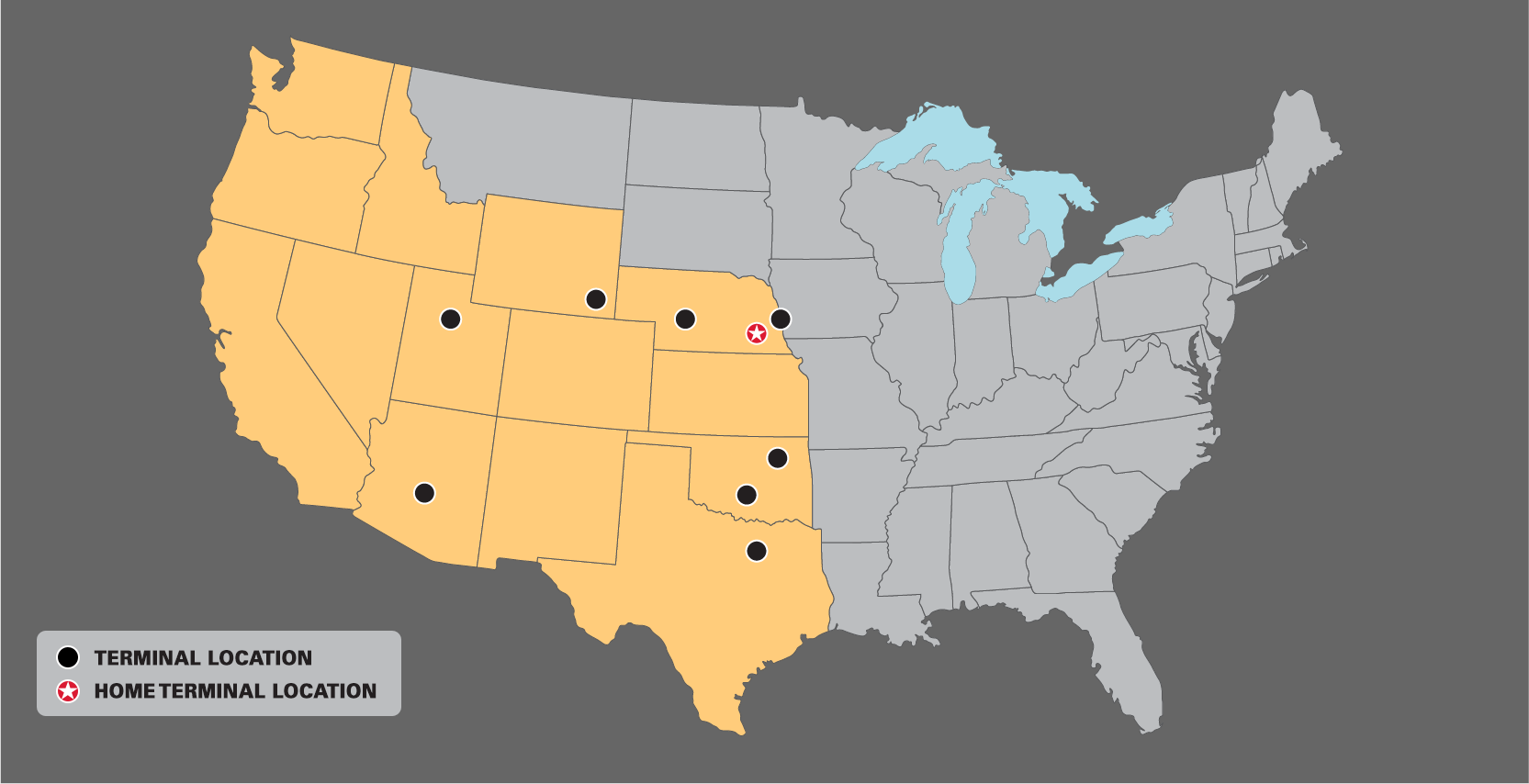 MIDSOUTH REGIONAL
Home Terminals - Tulsa, OK, Wilmer, TX, and West Memphis, AR
MIDWEST REGIONAL
Home Terminals - Lincoln, NE and Indianapolis, IN
NORTHEAST REGIONAL
Home Terminal - Mechanicsburg, PA
SOUTHEAST REGIONAL
Home Terminal - Marietta, GA
WESTERN REGIONAL
Home Terminal - Lincoln, NE
MIDSOUTH REGIONAL
Home Terminals - Tulsa, OK, Wilmer, TX, and West Memphis, AR
MIDWEST REGIONAL
Home Terminals - Lincoln, NE and Indianapolis, IN
NORTHEAST REGIONAL
Home Terminal - Mechanicsburg, PA
SOUTHEAST REGIONAL
Home Terminal - Marietta, GA
WESTERN REGIONAL
Home Terminal - Lincoln, NE